Author: Fred Swanson, Created at: 8 Jan 2020, Updated at: 24 Apr 2020
Choosing the right file transfer service is not an easy task. There are thousands of platforms, and if you are not cautious enough, you can be scammed. To help you to orientate between them. We made a synoptical comparison page. We focused mainly on free offers, security, simplicity, and compatibility.
Our main objective is to point out the significant pros and cons of the biggest file transfer websites. We also made Honorable Mentions section for smaller file transfer sites who did not make it to the list. However, they still have something to give. You will find this section under our TOP 5. Enough of talking, let us get to the point. Below are the finest file transfer services on the market in 2020.
Table of content
Top 5 File Transfer Services
WeTransfer

- Great service and simple UI

Let's start with the most popular one. WeTransfer was launched in 2009 by a Netherlands company. Thenceforth was a few times redesigned and offers a good deal and a simple user interface.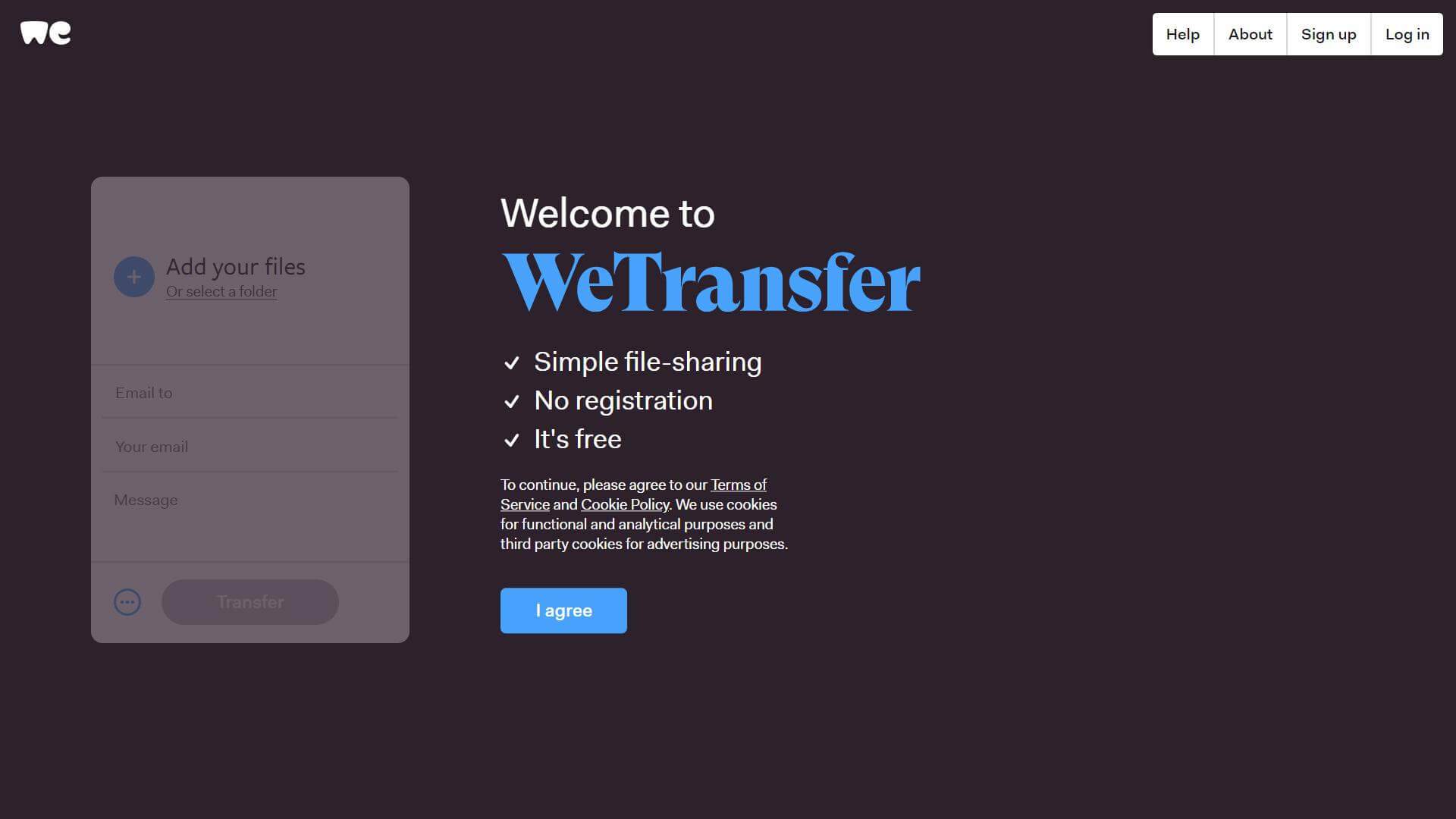 As a free user, you can send only 2 GB. However, if you buy a premium, it increases to 20 GB and 1 TB of storage. With the subscription, you can also start using a password for your transfers. WeTransfer is based on Amazon's technology, called Amazon S3. This service provides you a high level of scalability and a low latency pattern for your data transferring.
The whole user interface is easy to use, and you can drag and drop your data on the front page. Then set up if you want to send your files via email or choose to get a transfer link. WeTransfer also lets you write a message for the recipient. Your data can be downloaded 50th times, and they are available for 7 days.
WeTransfer specialty is the support of the creative community. On the background of the main page, you will mostly see illustrations or original project photos. In 2016 they gave away one billion to support these artists, and in 2017 they offered WeTransfer Plus for art students in the United States. WeTransfer also launched a project called creativeclass.tv, which is focused on sharing creative experiences.
Go to WeTransfer
MailBigFile

- Best for sending files via email

MailBigFile is the oldest platform on our list. In history, it was the best website for file transferring. The company behind MailBigFile started in 1997 in the United Kingdom with a small project who should allow transferring extensive data via email. While things were a big success in 2005, they released the first version of their product and reaped the ovations and attention of the audience. In March 2006, MailBigFile was marked as "Website of the Day" on Steve Wright's Radio 2 show.

Anyway how MailBigFile is doing compared to newer transfer sites? The answer is not bad. They still offer good deals with awesome features. For example, support in 118 countries around the world.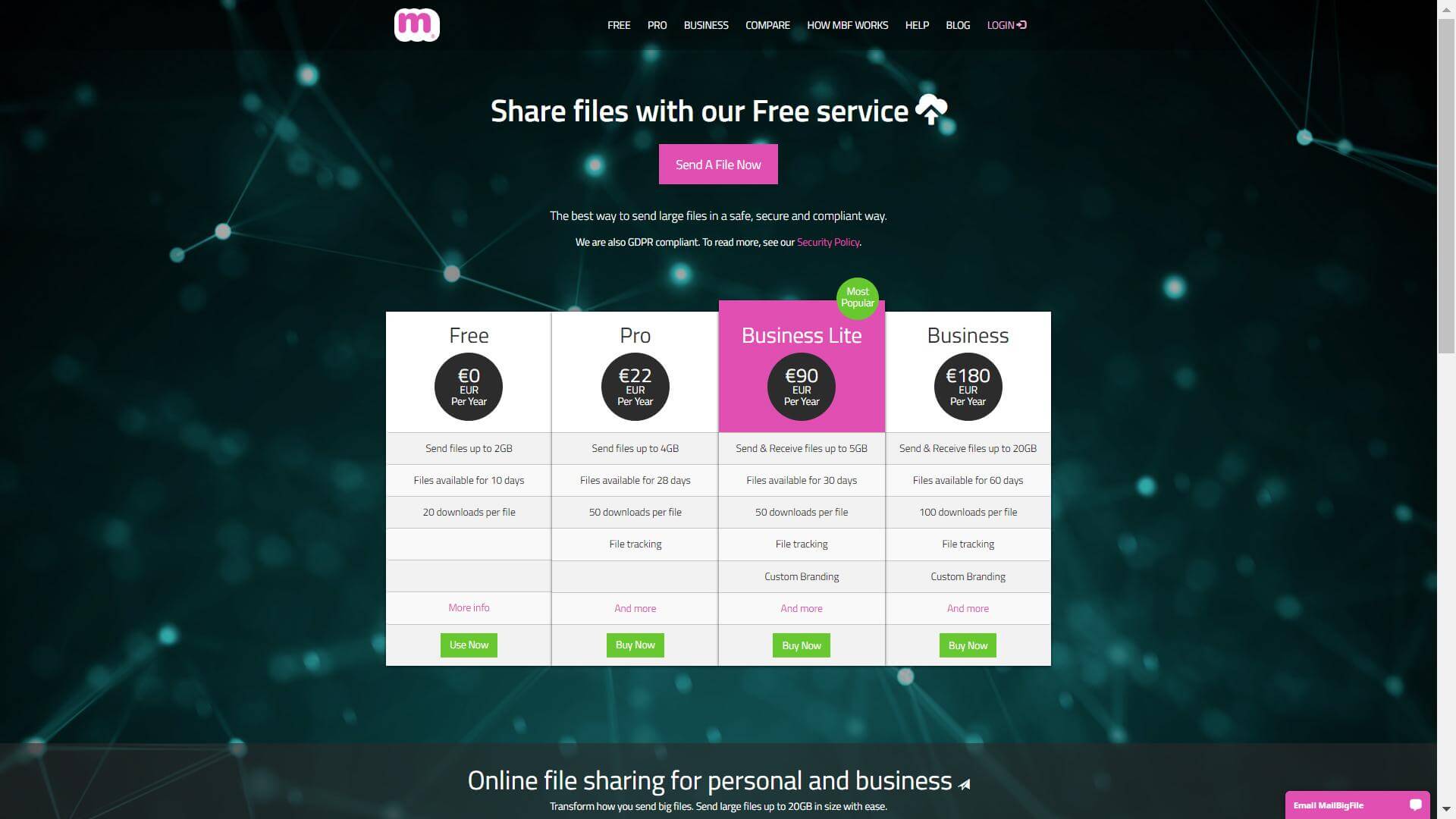 Free users are allowed to send files up to 2 GB with a ten days download limit for only one recipient. It is not much. However, MailBigFile shines in other segments. Their support is amicable, and they try to help in any situation. Also, most of the kinks are ironed out, thanks to a long history of this web page.
As you can see above, MailBigFile has three premium models. All options have to be paid yearly. In Pro, you can send your files up to 5 recipients. In Business Lite, it is raised to 10, and if you buy Business, your limitation is on 15 recipients. From this perspective, the whole model is a little bit outdated. However, MailBigFile always comes handy if you want to simply send your photos, videos, and other files through email.
Go to MailBigFile
FileTransfer
.io

- Overall, the best choice

On the other side of the MailBigFile you have FileTransfer.io. It is a new and fresh website that was released in 2020, and since then, they are trying to adjust the mirror to the existing file transfer sites. For this purpose, FileTransfer.io sets the price for the premium subscription very low and gives many options to the hands of the free users.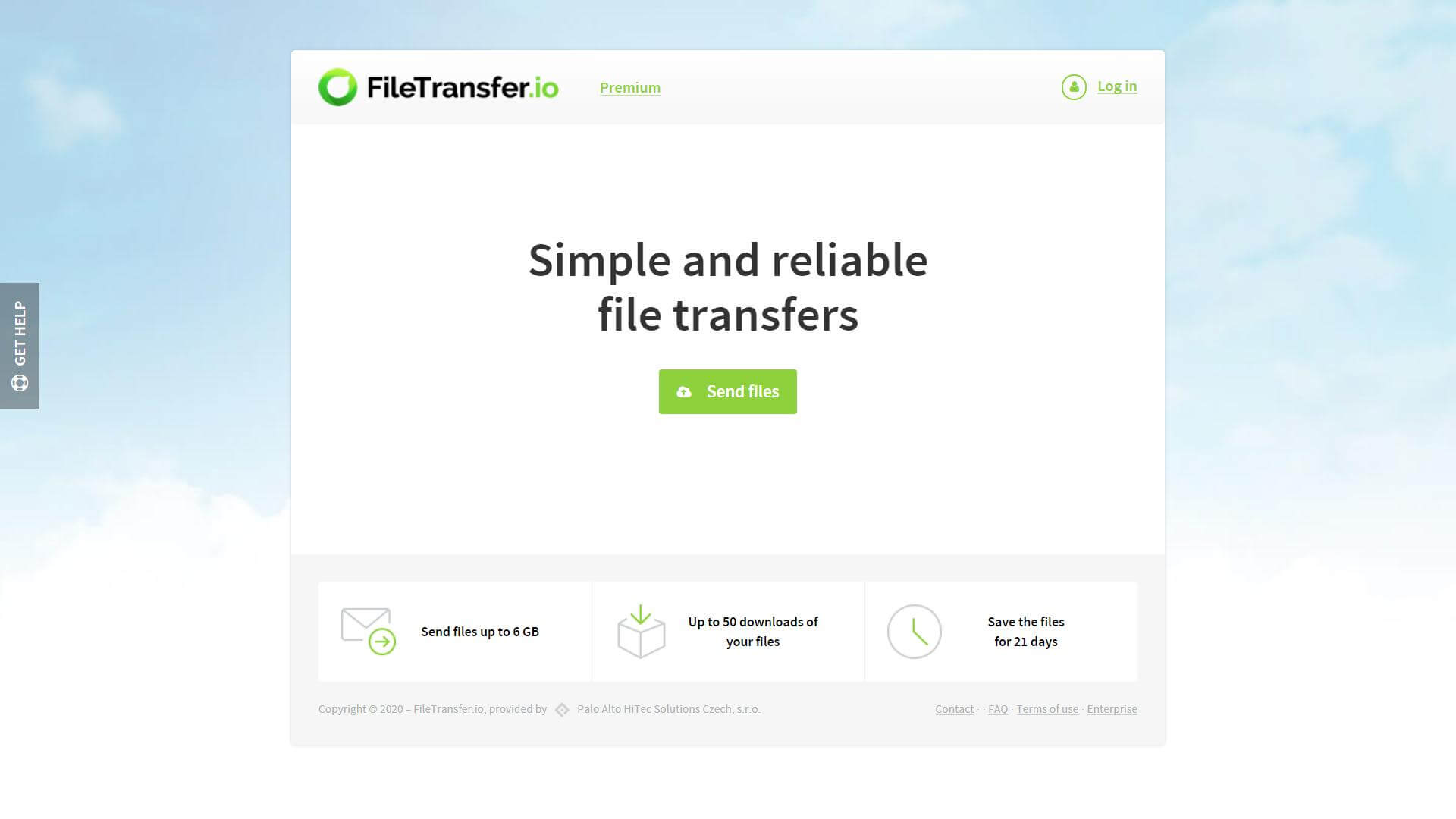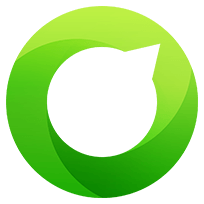 You can freely send up to 6 GB with an expiration date of 21 days. Download limit is set to 50, and as the icing on the cake, FileTransfer.io is entire without advertisement, and you can set up a transfer password for free. If you come to the point where you need to expand your limitations, there is an option to buy a premium subscription. The deal is pretty sweet. You can get 60 GB per file without any other limitations, only for $2.40 per month.
Enough of praise. Like the others, FileTransfer.io also has some cons. Due to the freshness of this page, you may come across some technical issues. Do not worry. Report the bug in the contact section, Issue category Technical issue. FileTransfer.io responds quickly and always fixes your problem.
Overall, this file transfer service is worth trying. It brings a new point of view to treating free users and the best premium model on the market right now.
Go to FileTransfer.io
We
Send

it - Decent protection and customer support

WeSendit is a platform mostly focused on high levels of security for your file transfers. With encrypted connections, you will always be safe. Let us explain it. When you send the files, WeSendit transmits them over an encrypted connection and then decrypts them after downloading. This system still has some bugs. However, it works fine, and reviews are overall positive.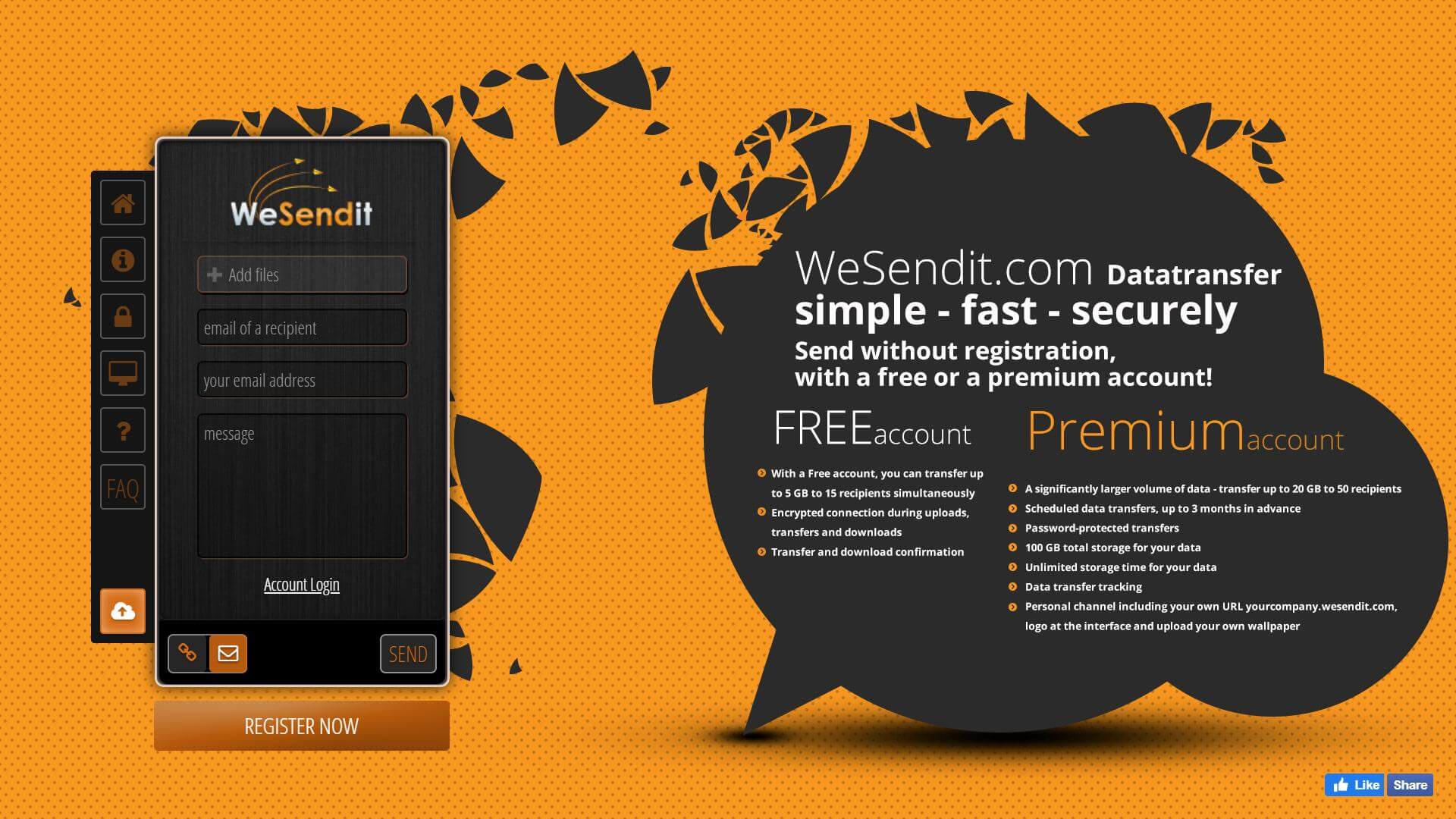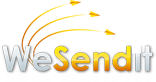 With a free account, you get 5 GB that can be sent to 15 recipients. WeSendit also offers two reliable premium subscriptions called Turbo and Business. With these, you can resend unlimitedly. You will get access to password protection and contact management. In Turbo, you get 10 GB per file, and you can store it for 30 days plus 50 GB of free storage space. If you upgrade to Business, you will boost your account to 20 GB per file with 100 GB of storage, and your data stays on WeSendit forever.
The big specialty on WeSendit is a coupon system. With every upload, you are able to win an attractive voucher for a discount in a partner shop. Or it gives you a credit that can be spent for the next premium payment. You can win this coupon even with a free account. However, this system is currently available in Switzerland, Germany, and Austria.
The bottom line? WeSendit is worth a try. Offer for free users is pretty solid. Security is not on the second track, and with a touch of luck, you can win a fine coupon. On the other hand, the user interface is sometimes confusing, and page load time is higher than that of competition.
Go to WeSendIt
Sendspace

- Solid platform with low-cost premium

If you are searching for a minimalistic web page that will provide you an easy way to transfer your data. Sendspace is a good way to go. As you can see below, all files can be drag and drop, and navigation across the whole site is easy.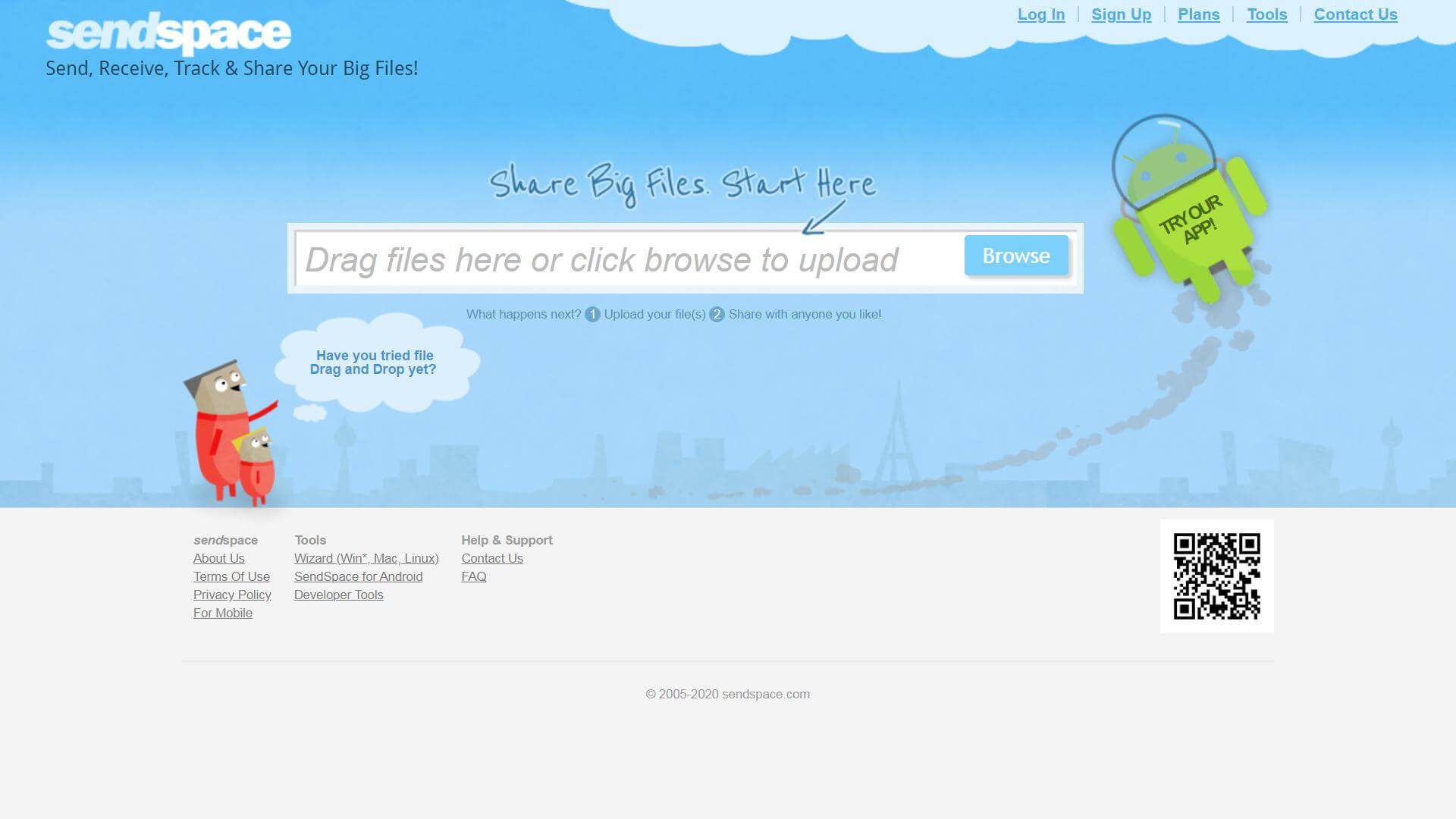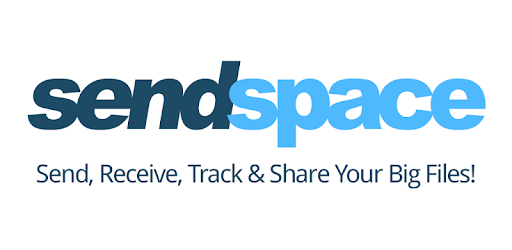 Compared to the other data transfer websites. On Sendspace, free users do not have many options. You can send files only up to 300 MB. However, the premium is very cheap and pretty stable. With the Pro Base subscription, you get 5 GB per file with 100 GB of direct download link bandwidth only for €7.99 per month. If you upgrade even higher to Pro Plus, you get the deal of 10 GB per file and 300 GB for direct download link bandwidth, which is a favorable deal. On top of that, in both premiums, you get access to password protection, ad-free uploads and downloads, public uploads, and many other features.
SendSpace also offers an application for your mobile phone. You can easily download it on Google Play or App Store.
In the end, I need to say this platform is reliable. Premium is cheap, support reacts every time, and there are almost none problems with transfers. However, if you want to upload bigger files, for example, raw data of your work, you are going to face a space problem.
Go to SendSpace
Honorable mentions
Here are file transfers that did not make it to the TOP 5 list. However, they still have many to offer. Let's look at their strong sides in a few sentences.
Filemail
This small Norwegian company was found in 2008 by a team of transfer enthusiasts. They are similar in many things with our TOP tier: a clean user interface, easy navigation through the application, and dependable security. However, one thing shines most. Filemail has an advanced App and many plugins that can be installed almost everywhere. For example, you can add Filemail into your Outlook mail and compress data there. So if you want to use your favorite email provider and still exploit features of data transfers definitely check Filemail.
AnonFile
Second, on our Honorable mentions list is AnonFile. Its name is an abbreviation for the Anonymous file, and how it comes from the title this file transfer is entirely anonymous. Everything is free, and you can upload up to 20 GB per file and 100 GB per day. I also have to point out that your data will stay on AnonFile forever.
MyAirBridge
MyAirBridge is more like a desktop application on a website. As a free user, you can get 20 GB per file and send it up to 10 recipients. Premium is cheap, and you get extra storage space when you buy it. A Unique feature on this file transfer is a Teamwork function that provides you a connection between multiple profiles. People in your team can easily manipulate shared files. So MyAirBridge is an excellent way to go for families or workgroups.
SendThisFile
SendThisFile is older than MailBigFile. The website was founded in 2003, and many features are behind the newer sites. So why is SendThisFile even on our list? Because this file transfer is highly secure. Thanks to 128-bit TLS encryption, your data stays in safety through the whole process. On SendThisFile, you have to sign up before you even start. For many people, that can be a millstone around their neck. However, it is another security measurement that keeps your data safe. Be aware! SendThisFile is not free. The starter pack will cost you $5 per month, and you can upload up to 25 GB with 6 days expiration date and unlimited recipients. This deal is a little bit outdated. However, if you really want to secure your data, definitely try SendThisFile.
TransferNow
TransferNow has one of the most beautiful websites on our list. Navigation via the whole site is enjoyable. As a free user, you can get 4 GB per file transfer for 20 recipients. The likable function is password protection, even for free users (there are only two transfer platforms on our list that provide this function for free. TranferNow and FileTranfer.io). You can download their app and transfer from everywhere. TOP feature on TransferNow is multiple language options. You can choose from 16 different languages, including Czech, Dansk, English, Polski, and If you did not find your native language on a website. You can help them to translate.
Free versions
For casual users who only want to send some photos occasionally, videos or word documents are the free version most crucial aspect on every file transfer website. That is why We made a simple spreadsheet for better orientation in features and differences between them.
WeTransfer
MailBigFile
FileTransfer.io
WeSendit
Sendspace
Max File size
2 GB

2 GB
6 GB
5 GB
300 MB
Expire date
7 days
10 days
21 days
3 days
30 days
Download limit
NONE
20x
50x
15x
1-4GB/day
Recipients limit
3x
1x
NO LIMIT
15x
1x
File message
YES
YES
YES
YES
NO
Ad-free
YES
NO
YES
YES
NO
Password protection
NO
NO
YES
NO
NO
Upload resume
YES
NO
YES
NO
NO
Multi-platform
Optimization
YES
YES
YES
NO
YES
In this comparison tab of free versions, you can clearly see two winners FileTransfer.io and WeTransfer. WeSendit with MailBigFile are right behind them, and Sendspace is lagging a bit. However, Sendspace has the longest expiration time, which will please many users.
A great feature to secure your uploaded data is password protection. In our spreadsheet, allow this function for free users only FileTransfer.io. On the other hand, multi-platform optimization and file messages have almost everyone.
Premium versions
Some of us, of course, want more than basic offers. However, upgrading to premium can be confusing and tricky sometimes for this purpose. We made another comparison tab. This time chart of premium versions. Many sites have one premium subscription, and some have three or more options. So we always pick the middle one golden mean.
| | WeTransfer | MailBigFile | FileTransfer.io | WeSendit | Sendspace |
| --- | --- | --- | --- | --- | --- |
| Max File size | 20 GB | 5 GB | 60 GB | 10 GB | 5 GB |
| Expire date | 30 days | 30 days | Never | 30 days | Never |
| Download limit | NONE | 50x | None | 25x | 30GB/day |
| Recipients limit | 50x | 5x | None | 25x | 1x |
| File message | NO | NO | YES | YES | NO |
| Download of expired files | NO | NO | YES | NO | NO |
| Password protection | YES | YES | YES | YES | YES |
| Upload resume | YES | NO | YES | NO | NO |
| Price/month | $12 | $8 | $2.40 | $7.90 | $7.99 |
Now it is visible why we choose FileTransfer.io as our Overall, the best. This file transfer rules the premium versions category. WeTransfer is also doing well. However, the price is a little bit exaggerated compared to the others.
This time every provider offers password protection. Nonetheless, only FileTransfer.io has a download of expire files feature that can save your day.
How to choose the right one?
Did you read everything above and still don't know how to decide? Do not worry file transfers can be confusing. I will try to illuminate you some features and elements that are really important when you want to choose the right file transfer service.
Maximum upload size
Crucial uploading aspect. The maximum upload size gives you detail about how big your upload file is supposed to be. Most of our TOP rated sites have enough upload size for photos, mp3s, or videos for free. Except for Sendspace on this file transfer, you could have problems with longer video sentences.
On the other hand, FileTransfer.io and WeSendit provide sufficiency uploading size even for raw or zip files. If it is still not enough, you can always upgrade to premium.
Download limit
This factor shows how many times the exact file can be downloaded. After reaching the download peak, your data will be deleted. WeTransfer offers no limitation for free users, and FileTransfer.io provides no download limit on premium accounts.
Price
For most of us a price is an essential element that decides where you are going to invest. From this perspective is FileTransfer.io number #1. They provide you with a full premium account with many benefits, only for $2.40 per month. Also, WeSendit gives you a decent offer for a reasonable price.
Data expiration
It can be frustrating when your data expires, and you still need them. For this purpose, you have to look at the Data expiration details on every transfer platform. Be aware! Some sites have it hidden. However, it is always better to find than regret it later. You can see a comparison in our previous tab. Nonetheless, for better orientation, I copied it below this paragraph.
WeTransfer
MailBigFile
FileTransfer.io
WeSendit
Sendspace
Free version
Expire date
7 days
10 days
21 days
3 days
30 days
WeTransfer
MailBigFile
FileTransfer.io
WeSendit
Sendspace
Premium version
Expire date
30 days
30 days
Never
30 days
Never
Sendspace leads this category. As a free user, you have one month to work with your data. Right behind Sendspace is FileTransfer, with 21 days for free users and the same deal for premium. There is a massive difference between these two and the rest. Because if your files are never going to be deleted, you can use Sendspace and FileTransfer.io for long-term data storage.
Speed
Upload speed depends more on your internet connection because all providers afford you the highest possible upload speed. However, some sites have quicker loading and a more precise user interface. That makes them more comfortable and better if you count every second. According to this fact, we made a simple spreadsheet. Where you can see loading speed and user interface clarity grade.
| | WeTransfer | MailBigFile | FileTransfer.io | WeSendit | Sendspace |
| --- | --- | --- | --- | --- | --- |
| Loading speed | 568ms | 1.12s | 480ms | 1.74s | 1.31s |
| UI clarity | A+ | B | A+ | C | B+ |
Best websites in this category are FileTransfer.io and WeTransfer, with a speed of half of the second and clear interface. So you can be really efficient when uploading and sharing. On the other hand when tested WeSendit user interface. Many things were confusing, and sometimes we didn't even know where to click.
Security
Another important factor is security. Nowadays, most transfer file websites have the best security mechanisms and data encryption while you send them. Our advice is to sign up for better protection and do not send your data to unknown people or email addresses.
An excellent solution to keep your data safe is password protection for data packages. This feature is included for free in FileTransfer.io.
Support
Often the neglected thing is support. We don't care about support until we have a problem. Then it is the most critical element. All our TOP rated websites respond quickly and have useful FAQ sections. Most advanced support is made by WeTransfer. On this file transfer platform, you will find a lot of pre-answered questions and problems.
Frequently asked questions
What if I lost connection during uploading?
Some websites these days have upload resumes, which will automatically continue your uploading where it ended. On our list, this feature is provided only by FileTransfer.io and WeTransfer. On MailBigFile, WeSendit, and Sendspace, you have to start again.
How can I send a data package?
Easily, you can drag and drop your files on each site or press Send files. With all our tested websites, you can upload your data right on the main page except on MailBigFile, where you have to click on Send A File Now first. Then you will be redirected to the data upload page.
Do I have to be registered?
For most file transfer websites except SendThisFile, the answer is no. However, it is always better to sign up to get a higher level of security. Some sites also give you advantages like WeSendit and its coupon system (you can find more about this topic above in WeSendit description).
Which one is best for mobile users?
It depends if you still want to use a website or application. Let us analyze both options. In our TOP tier list are only two providers with an app, WeTransfer, and Sendspace. Both are solid. However, the WeTransfer app is more enjoyable and brings more features.
On the other hand for website users are the best FileTransfer.io because it brings the most exceptional optimization for the web on mobile devices. MailBigFile, WeTransfer, and SendSpace also have a responsive website, and in the last place is WeSendit with no multi-platform optimization.
Will my data be deleted after expiration?
On WeTransfer, MailBigFile, WeSendit, and SendSpace, the answer is yes. Nevertheless, with FileTransfer.io, you can still download your files after data expiration. Also, if you buy a premium on FileTransfer.io or Sendspace, your data will never be deleted.
Final words
In the end, we have to say that file transferring is not an easy topic. There are many hidden features or scams, and the best solution is to try them all. However, We still hope our comparison helped you to choose a file transfer platform that fits all your requirements.